Life would be bland without those things that bring us joy.  My family always saw pets as a blessing, and we had plenty of them.  Not all at once, mind you, but the years of my childhood were filled with various types of creatures.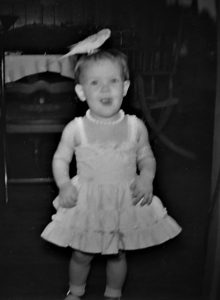 Life would be bland without those things that bring us joy.  My family always saw pets as a blessing, and we had plenty of them.  Not all at once, mind you, but the years of my childhood were filled with various types of creatures.
One of the first pets I remember was a parakeet named Blue Boy.  He lived in a cage in our kitchen, but sometimes my parents would allow him to enjoy some free flight time.  Blue Boy would often perch on a shoulder or even the top of someone's head.  There is a picture of toddler Sara selected as his resting place.  Blue Boy loved to imitate sounds; our favorites were when he tried to sneeze loudly like my dad and the times he tried to capture the sound of a kitchen knife being sharpened.
I have vague recollections of a black cat dubbed "Catty," I have no idea whatever became of him.  Our next feline was a kitten we found on the way home from school one day.  I was in second grade; my sister Terri was in first.  We knew better than to carry it home, so we coaxed it into following us.  Mom made us take it back to where we found it and let it go.  We did as ordered, but somehow it followed us home again the next day.  Mom gave up and let us keep the kitten; we named her Sugarplum.
Sugarplum stayed at our house for several years, and once or twice a year she produced a litter of kittens.  Mom took no notice of our pleas to keep them; she always managed to find other homes for each and every one.  I knew one of my favorites was slated to go to a different residence one day, so I hid it before I went to school.  My ploy didn't work – Mom had the new owner return after I came home.  She ignored my tears as she handed the kitten to a lady who tried to reassure me that she would take good care of it.
Besides the cats that traipsed their way through our lives, we had a dog named Happy.  He was a Beagle mix and was a member of our family for quite a long time.  Happy thought he was a cat – we tried to figure out why he growled so much when we petted him.  He loved the attention, and he wasn't upset.  We finally decided he was trying to purr.
Cats and dogs were not the only types of creatures that ventured their way into our hearts.  Rabbits, ducks, squirrels, a chipmunk, hamsters, even mice were part of our household at one time or other.  I still chuckle about the bunny we acquired at Easter one year.  We named her for my mother: Alice Hop-hop.  As "she" matured, it became very obvious that the rabbit was not a female, so we called her Bob Hop-hop, using Dad's name instead of Mom's.
The oddest animal that we ever had was probably a baby alligator.  My cousin's friend had given it to her as a gift; her mother refused to keep it around, so  it was re-gifted to us.  The little thing didn't last very long once winter set in; we buried it in the backyard, making sure to mark its grave.  When summer came around, my sisters and I decided to see if we could find its bones.  Unfortunately for us, they had decayed along with the rest of the alligator, so no matter how deep we dug, we were unable to see its skeletal remains.
I could reminisce about pets even longer, but time is getting away, and I need to switch to recipes.  Just like pets enhance our lives, a good sauce can greatly enhance our food.  March is National Sauce Month, so I chose some recipes from my collection – a lime sauce for pork or chicken, tartar sauce for fish, and sour cream sauce for fruit.
Herbed Honey Lime Sauce
1/2 cup chopped onion
1 tablespoon olive or canola oil
1 cup chicken broth
1/4 cup honey
1/4 cup lime juice
2 teaspoons ground mustard
1/4 teaspoon dried rosemary, crushed
1/2 teaspoon salt
Dash pepper
1 tablespoon cornstarch
1 tablespoon water
In a saucepan, sauté the onion in oil until tender.  Stir in the broth, honey, lime juice, mustard, rosemary, salt, and pepper; bring to a boil.  Reduce heat.  Combine the cornstarch and water; stir into the sauce.  Cook and stir over medium heat until thickened.  Serve over turkey, chicken, fish, or pork.  Cover and refrigerate any leftovers.  Yield: about 1-1/2 cups.
Tartar Sauce
1/4 cup sour cream
3 tablespoons mayonnaise (may use light)
2 teaspoons grated lemon rind
1 tablespoon chopped fresh parsley
1 tablespoon minced green onion (may use 1 teaspoon onion powder)
1 teaspoon fresh lemon juice
1/4 teaspoon hot sauce
Stir together all ingredients in a bowl.
Sour Cream Sauce
1/3 cup butter, softened
1 cup powdered sugar
1/2 cup sour cream
1/2 teaspoon lemon juice
1/4 teaspoon vanilla
Beat butter and powdered sugar at medium speed with an electric mixer until smooth.  Add sour cream, lemon juice and vanilla, beating until creamy.  Cover and chill until ready to serve.  Makes about 1-3/4 cups.
Serve over fresh fruit.