It seems like January has more than its fair share of designations for National (whatever) Month.  I have already addressed National Soup Month and Bread Machine Baking Month.  This week, I was wavering between National Egg Month and Oatmeal Month.  I reviewed past columns, found out that I wrote about Egg Month last year (including the story I was planning on telling), so I decided it was time to revisit Oatmeal Month.  I have not written about it since I discovered my allergy to oats in  2012.
Finding out you are allergic to one of your favorite foods is tragic.  Especially when it is a food considered to be healthy for you.  I recently discovered that I could substitute rolled barley flakes for oats; they are very similar in texture and flavor.
Oatmeal was always a staple at my house when my husband was living.  Bob loved oatmeal and would often eat a bowl of it for supper.  We usually ate our big meal at noon when he came home for lunch, so our evening meal was often leftovers or something quick and easy to prepare.  One of Bob's favorite ways to enjoy oatmeal was granola; he loved it when I found a good recipe for a homemade variety.
Eight years ago when I was preparing recipes for a column about oatmeal, I strayed away from using it only as a food.  I tried mak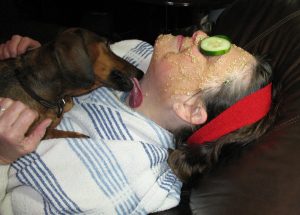 ing "Honey Oatmeal Facial Scrub" to see if it worked as well as it claimed.  After making it, I placed a towel around my shoulders, gooped up my face, and leaned back in my recliner for the recommended ten minutes.  I even added the suggested cucumber slices over my eyes.  I almost dozed off but was rapidly awakened when my dachshund jumped onto my lap.  He walked up my chest and began licking the oatmeal concoction off my face.  Helpless with laughter, I could not manage to stop him.  Bob walked into the room and managed to snap pictures of Seigfried slurping up the oatmeal scrub. When I finally rinsed off the scrub, my skin felt especially soft, so I guess it was worth the effort, even though my sides were sore from laughing so hard.
Oatmeal and Apple Butter Bars are easy to prepare.  Now I have discovered that I can use barley for oats, I may have to make them again; to be different, I may use cherry butter instead of apple.
Oatmeal can be enjoyed in so many ways, even if you do not care for it as a hot cereal.  Try one of these recipes and see for yourself!
Master Granola Recipe
 2 cups old-fashioned oats
1/2 cup wheat germ
2 tablespoons brown sugar
1/4 teaspoon salt
1 cup "Extra" ingredients (see list below)
1/4 cup maple syrup
3 tablespoons vegetable or canola oil
1 tablespoon water
Flavorings (see list below)
Adjust oven rack to middle position; heat oven to 275 degrees.  Coat a 9-by-13-inch metal pan with cooking spray; set aside.  Mix oats, wheat germ, brown sugar, salt and Extra Ingredients – except dried fruit – in a bowl.  Bring syrup, oil, water, and any flavoring to a simmer in a saucepan over low heat.  Drizzle over oat mixture and stir to combine.  Pour mixture onto prepared pan.  Working a handful at a time, squeeze cereal to form small clumps.  Bake for 30 minutes.  Stir in dried fruit.  Continue to bake until golden brown, about 15 minutes longer.  Let cool.  May be stored in airtight tin for up to 2 weeks.
Note:  If you double this recipe, use 2 pans for baking.
Extra ingredient and flavoring list:
1/3 cup chopped walnuts, 1/3 cup sweetened flake coconut, 1/3 cup dark or golden
raisins   Flavoring: 1/2 teaspoon ground cinnamon
1/4 cup slivered almonds, 1/4 cup sunflower seeds, 2 tablespoons sesame seeds,
6 tablespoons currants
1/4 cup chopped roasted unsalted cashews, 1/4 cup chopped banana chips,
1/4 cup sweetened flake coconut, 1/4 cup chopped dried pineapple
Flavoring: 1/4 teaspoon ground ginger
1/3 cup sliced almonds, 1/3 cup sweetened flake coconut, 1/3 cup dried cherries
Flavoring: 1/4 teaspoon almond extract
Homemade Oatmeal Facial Scrub
 2 tablespoons ground oats
2 tablespoons brown sugar
2 tablespoons aloe vera *
1 teaspoon lemon juice
Place the ground oats, aloe vera, and brown sugar in a medium bowl. Squeeze in the lemon juice and stir the ingredients together until the oatmeal scrub has an even and smooth consistency. Massage the scrub into damp skin with gentle circular motions. Allow the scrub to set in to the skin for about 10 minutes before rinsing.
*Aloe vera may be purchased or squeezed from the spike of an aloe vera plant.
Oatmeal and Apple Butter Bars
 1-1/4 cups flour
1 cup packed brown sugar
3/4 cup butter or margarine, cut into pieces
1-1/4 cups quick-cooking oats
3/4 cup apple butter
Mix flour and sugar in large bowl. Cut in butter until mixture resembles coarse crumbs. Stir in oats until blended. Press half the mixture (about 2-1/4 cups) firmly into greased 8-inch square pan to form compact layer. Spread apple butter to within 1/2 inch of edges. Sprinkle remaining oats mixture over apple butter; press carefully but firmly. Bake in preheated 350 degree oven about 40 minutes or until lightly browned. Cool in pan on wire rack. Cut in 1-by-4-inch bars or 2-inch squares. Makes 16.