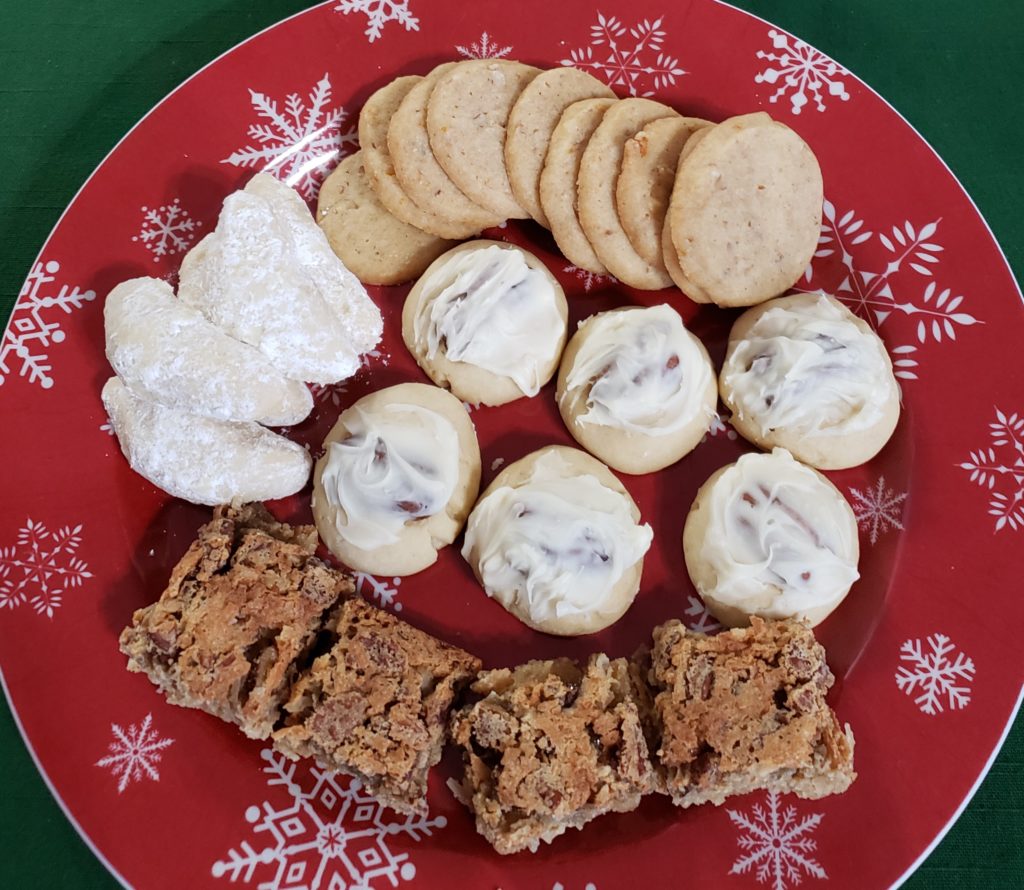 I think I have been way too busy lately. When I haven't been going somewhere, I have been preparing to go somewhere. (We won't talk about the morning I spent in the dentist's office getting crowns on a couple of teeth.) I readied a craft project for a group of ladies to put together this past Saturday, plus baked cookies for the same event.
Part of my schedule involved trying new cookie recipes to include in this column. I picked Friday as my baking day. I arose a little early that morning, excited about my venture. Cookbooks had been browsed, and recipes were chosen. However, when I turned on the kitchen lights, I noticed that there had been a mouse on my stove. And on both sides of the counter next to it. That meant scrubbing and sanitizing before I would even begin my baking project. I fired my cats from their job of protecting my home from rodents; they just stared at me uncomprehendingly, watching while I cleaned up what the mouse left behind.
My next frustration happened when I discovered that I was missing key ingredients for three of the recipes. The maraschino cherries I owned had gone bad in their jar, so I threw them away. Although I was sure I had butterscotch chips, there were none to be found in my house. Lots of vanilla chips and even cinnamon chips, just no butterscotch ones. I still had more recipes on my list, so I thought I would be okay. Then I went to get out the coconut I thought was in my cabinet – it wasn't there. That meant another recipe was compromised. I thought about substituting something else, but I couldn't decide what it would be. I finally prepared the dough for three of the remaining recipes, as each of them had to be chilled.
While waiting on the chilling process, I baked the seven dozen cookies I needed for Saturday, using a tried and true recipe that I knew would turn out well. I also worked on the craft project that needed to be ready on the same day. It didn't help that Sebastian (one of my feline companions) kept taking the metal stars that I was tying onto pieces of twine. He didn't really care about the stars, he was intrigued by the dangling strings. I went to bed late on Friday night with cookie dough in my refrigerator and uncompleted craft projects.
Thankfully, I was able to finish the crafts on Saturday morning before heading to church for the group function I was attending. The ladies were delighted with the decoration we put together, and we enjoyed a great time of food and fellowship. By the time I arrived home, I was exhausted; however, I managed to do the laundry that I needed to finish. (Notice that the cookie dough was still in the fridge.)
Sunday was another full day. I attended church and Sunday School, then went to lunch with friends. Afterward, we enjoyed a production of The Nutcracker in Beech Grove. Knowing that snow was headed this way, I stopped at the grocery on my way home. When I departed the store, the snow had already begun, and it was growing dark as well. Now I faced driving at night as well as possibly slick roads. I decided to go the country route since there wouldn't be so much oncoming traffic. Before I set out, I prayed for a safe journey home. Thankfully, the roads were not slick. After I got past most of the traffic, I began to relax and enjoy the loveliness of falling snow. Christmas lights along the way added to my delight in the beauty of a winter night. I thanked the Lord for His creation, and for the uneventful drive home.
Now it was time to bake cookies! Orange Crispies were first, followed by Holiday Riches and Vanilla Crescents. Monday morning found me at work again; I made English Cherubs, having obtained coconut at the store the evening prior. The common bond of these recipes is that they all contain nuts – either almonds or pecans. Maybe it could be said that I am nutty about Christmas cookies!
Orange Crispies
1 cup butter, softened
1/2 cup sugar
1/2 cup firmly packed brown sugar
1 egg
1 tablespoon grated orange zest
2 tablespoons orange juice
1/4 teaspoon vanilla extract
2-1/2 cups all-purpose flour
1/4 teaspoon salt
1/4 teaspoon baking soda
1/2 cup finely chopped pecans
Cream butter; gradually add sugar, beating until light and fluffy. Add egg, orange zest, juice, and vanilla; beat well. Combine flour, salt, and soda; gradually add to creamed mixture. Stir in pecans.
Shape dough into 2 long rolls, 1-1/2 inches in diameter; wrap each in plastic wrap. Chill 3 hours or until firm.
Unwrap rolls; cut into 1/4-inch slices. Place cookies 2 inches apart on ungreased cookie sheets. Bake at 375 degrees for 8 to 10 minutes or until edges are lightly browned.
Yield: about 6 dozen.
Holiday Riches
2-1/4 cups all-purpose flour
1 cup sifted powdered sugar
1/2 teaspoon cream of tartar
1/2 teaspoon baking soda
1/4 teaspoon salt
1 cup butter, softened
1 egg, slightly beaten
1 tablespoon water
1 teaspoon almond extract
1 teaspoon vanilla extract
Pecan halves
1 cup white candy morsels or milk chocolate morsels
Combine dry ingredients in a medium mixing bowl; stir lightly. Cut in butter until mixture resembles coarse meal. Combine egg, water, and flavorings; mix well. Add to dry mixture, stirring until blended; chill dough 1 to 2 hours.
Shape dough into 1-inch balls; place on ungreased cookie sheets. Press a pecan half in center of each cookie. Bake at 350 degrees for 12 to 15 minutes. Cool completely. Melt morsels as directed on package. Spread evenly over the top of each cookie. Yield: about 4 dozen.
Vanilla Crescents
1 cup butter, softened
1/2 cup sugar
2 egg yolks
1/8 teaspoon salt
1 teaspoon vanilla extract
3 cups all-purpose flour
1 cup blanched, slivered almonds, finely ground
Powdered sugar
Cream butter; gradually add sugar, beating well. Add egg yolks, salt, and vanilla; beat well. Stir in flour and almonds. Chill 1 hour.
Break off dough by heaping teaspoonfuls; shape into 2-inch crescents. Place on lightly greased cookie sheets. Bake at 325 degrees for 20 minutes. Remove immediately from cookie sheets; coat with powdered sugar. Yield: about 5 dozen.
English Cherubs
1 cup firmly packed brown sugar, divided
1/2 cup butter, softened
1-1/3 cups all-purpose flour
Dash of salt
2 eggs
1/2 cup sugar
1 teaspoon vanilla extract
1/4 teaspoon salt
1/2 cup flaked coconut
1 cup chopped pecans
Combine 1/2 cup brown sugar, butter, flour, and dash of salt in a medium mixing bowl; mix until well combined (mixture will look dry). Press in bottom of a greased 9-inch square pan.
Beat eggs until foamy. Add remaining brown sugar, 1/2 cup sugar, vanilla, and 1/4 teaspoon salt; mix well. Stir in coconut and pecans. Spread over layer in pan. Bake at 350 degrees for 30 minutes or until top is set and lightly browned. Cool; cut into 1-1/2-inch squares. Yield: 3 dozen.