October 16, 2023
Just One More Time
I have been in a reflective mood since the month of October began. It hasn't hit me as hard this year as in the past ten years, but the dread of facing October 15th still lingers, and probably will for the rest of my life. Now it is over and I can go on again without reliving the day in 2012 when my husband Bob graduated to Heaven.
I hear so many people say that they would give anything to have just one more day with a loved one who has passed away. I have come to realize that I can't say that because being with Bob for one more day would never be enough. I would always want more. And more. And more. Although it is hard to make this statement, I have learned to be thankful for the thirty-six years, four months, and sixteen days that I had with my husband, and let to go of the deep craving to have more time with him. That is one wish that could never come true in this life.
I am reminded of a day with my granddaughter Vivian that happened nine months after Bob was gone. She was staying at my house for a couple of days. As we walked out to get the mail one afternoon, Vivian, who was two and one-half years old at the time, remarked that Jesus and DidDad were in Heaven. I agreed that they were. Her next question: "Can we walk there to see them?" I informed her that we could not and that if we could get there, we would not want to come back.
Up until 2012, October has been my favorite month. After that year, I dreaded its coming because it meant I was one year further away from the time I had with Bob. Now it seems like he was here just yesterday and forever ago. I will always miss him but I can't dwell in the past; it is uninhabitable.
A lot has happened since the Lord welcomed Bob to Paradise. Three more grandchildren. Me learning to deal with things that he would have taken care of. I have had to learn who I am all over again, since much of my identity revolved around being Bob's wife. Making decisions without his input started out with the thoughts of , "What would Bob do?" I finally realized that I could choose things that he would not, because he was no longer in the picture. It was done with lots of tears, but I am able to look at things more from a single perspective. And I can put all the black pepper I want in my food without feeling guilty. He is not here to care.
There is a lot that I love about October. Brilliant fall colors. Warm days and cool nights. Garden work is done. Much of the allergy-causing pollen has disappeared. Crunching through fall leaves. Ripe apples. My firstborn son arrived towards the end of the month (saving me from going to a costume party dressed as the great pumpkin). His firstborn child (Vivian) was born the first day of October. It has been a gradual process, but I am blessed to appreciate the month again, even if it does bring hard-to-face memories.
Through the whole process of reclaiming the joy I find in the month of October, the Lord has been my Rock. He has given me strength I didn't know I was capable of possessing. He has provided people to come alongside me and help me in so many ways. He has given me a heart to help others through their own grief journeys.
Several months after Bob was gone, I asked God, "What do I do now?" I sensed His answer, "Be an encourager." And that is what I have tried to do. There are times that I have failed miserably. There are times that I have been too caught up either in my own grief or with things I think I should get accomplished to take the time to reach out to others. However, I can't dwell on my mistakes or I will become discouraged, and that goes against what I am supposed to do.
This is one of those times when I sense that God has given me a writing assignment. I am sharing it in hopes that there may be those who need its message.
Scripture (in photo form):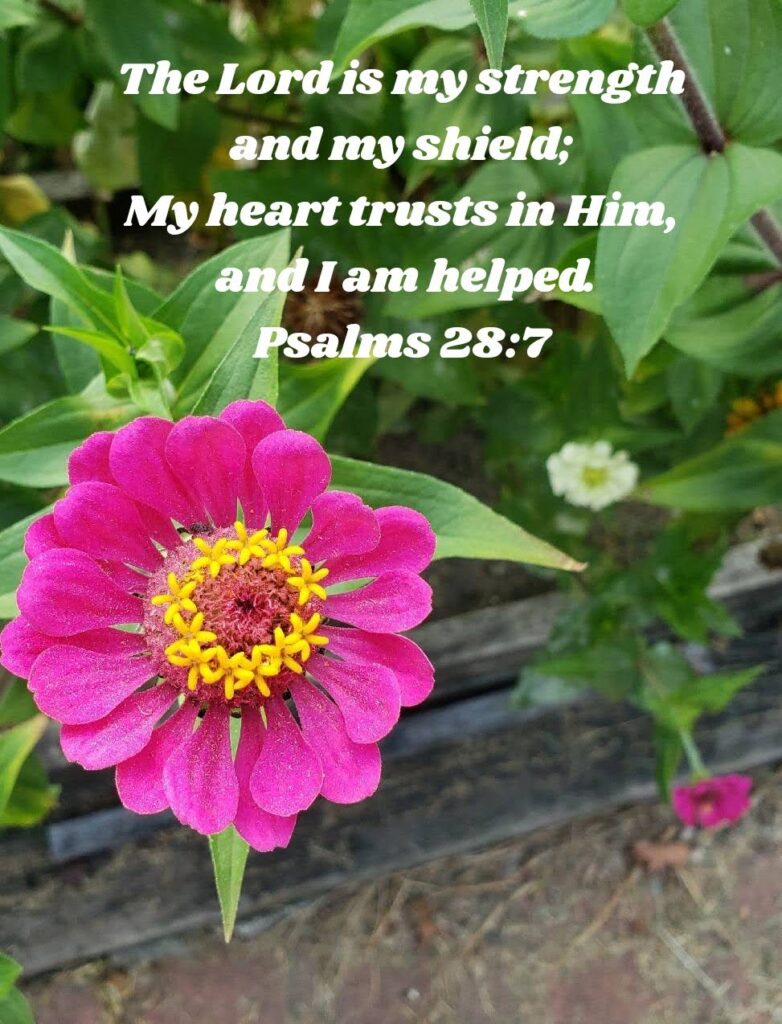 Prayer:
O Lord, my God,
In you do I put my trust.  You are my strength – You have been for all my life.  Thank You for seeing me through the hard days.  Thank You for picking me up and carrying me when I needed it.  Thank You for holding me close; for the blessing of Your arms wrapped around me when I am desperate for Your embrace.  May I live to give others the same encouragement that You have provided to me. 
I love You, Lord! 
Amen.