February is special for me, as my birthday just happens to fall during this short month.  My parents were very excited when my mother conceived.  They had been married for almost five years and wondered if they would ever have children.  Doctors had informed my dad that the high fevers he suffered during illnesses contracted in World War 2 would probably leave him unable to father offspring.
After learning of her pregnancy, Dad and Mom chose to move home to Tennessee.  They were living in a small Arkansas town but wanted to be closer to their family.  Dad was preaching for a little congregation (often being paid with chickens and garden produce) and Mom's teaching position was a large source of their income.  Back in Knoxville, Dad began working as an electrician.
Each of my parents had lost a parent by then; Dad's father (Poppy) passed away a few months before I was born.  Mom's mother (Granny Grace) suffered fatal injuries in a car accident just before Mom turned eleven; her father died the year she turned twenty-two.   Both Poppy and Granny Grace had February birthdays.  Since their baby was due in February, Mom and Dad decided a boy would be named for Poppy, and a girl for Granny Grace.
Born towards the end of February, my arrival just happened to land smack dab on my grandmother's birthday.  As planned, my parents named their little girl "Sara Grace."  I always knew the reason for my name; however, it wasn't until years later that I realized that my granny's first name was spelled with an "h" on the end.  By that time, my mother was no longer living, so I couldn't ask her why she changed the spelling for mine.  I know Mom had a dear friend named "Sara" with no "h," and I wonder if that was the cause.  Or maybe Mom just liked "Sara" spelled without the "h."
Something else makes February special: it is National Cherry Month!  And I love cherries!  My kitchen was quite cherry-full on Sunday afternoon because I wanted some new recipes for this column.  Besides, it was a good excuse to eat cherries!  The chicken is tasty, the energy bars are great, and the pie is scrumptious! Maybe my Sunday birthday this year should come with a cherry on top.
Sweet And Sour Chicken With Cherries
 4 boneless chicken breasts
1 large carrot, sliced thin (may use 12 baby carrots, sliced thin)
1/3 cup chopped sweet onion
1 clove garlic, minced
2 tablespoons butter
1/2 cup chicken broth
3 tablespoons honey
3 tablespoons red wine vinegar
2 tablespoons soy sauce
1/2 teaspoon ground ginger
1 tablespoon cornstarch
2 cups pitted tart cherries
Hot cooked rice
Cut chicken into 1-inch pieces. Melt butter in skillet.  Add chicken, onions, carrots, and garlic; cook for 2 minutes.  Stir in broth, honey, vinegar, soy sauce and ginger.
Bring to a boil; reduce heat.  Cover and simmer 10 minutes. Combine 1 tablespoon water and cornstarch. Stir into mixture. Cook and stir until bubbly.
Stir in cherries. Heat through. Serve with hot rice.  Makes 4 servings.
Cherry-Pecan Energy Bars
1 cup quick-cooking oats
3/4 cup whole-wheat flour
1/4 cup toasted wheat germ
1 teaspoon ground cinnamon
1/4 teaspoon salt
1/2 cup honey
1/3 cup unsweetened applesauce
1/4 cup canola oil
1 large egg, slightly beaten
1 large egg white
3/4 cup chopped dried cherries
1/2 cup finely chopped pecans
Cooking spray
1/4 cup "fruit only" apricot preserves
Preheat oven to 350 degrees. In medium bowl, whisk together oats, flour, wheat germ, cinnamon and salt.
In another bowl, whisk together honey, applesauce, oil, egg and egg white until well combined. Stir in oatmeal mixture until well combined. Add dried cherries and pecans.
Coat an 8-inch square baking pan with cooking spray. Spread mixture into prepared pan and bake until a toothpick inserted in the center comes out clean, 30-35 minutes. Put preserves in a small saucepan; bring to a boil. As soon as bars come out of oven, brush with preserves. Cool completely and cut into 12 bars, about 4-by-1-1/2  inches each. Makes 12 servings.
Toasted Almond Cherr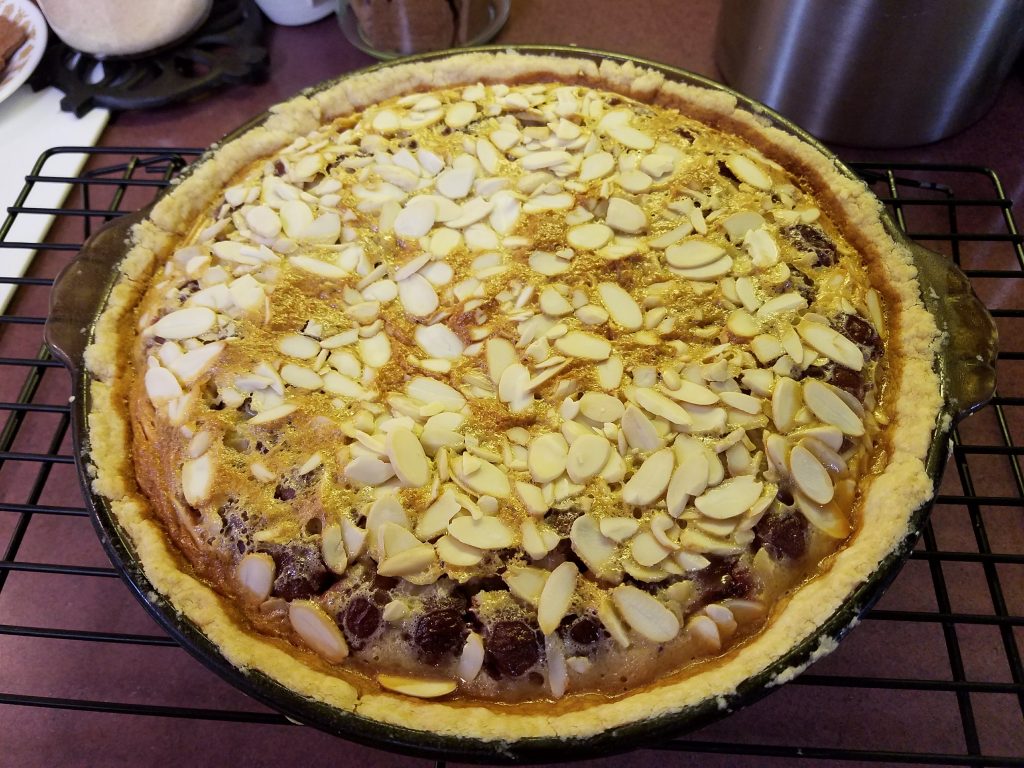 y Custard Pie
 Crust:
1-1/2 cups all-purpose flour
1 tablespoon sugar
3/4 teaspoon salt
1/2 cup mild olive oil
2 tablespoons unsweetened vanilla almond milk
1/2 teaspoon almond extract
Filling:
3 large eggs
1 cup unsweetened vanilla almond milk
1 tablespoon canola oil
1/3 cup all-purpose flour
2/3 cup sugar
1/4 cup honey
1-1/2 teaspoons vanilla extract
1/4 teaspoon almond extract
1/2 teaspoon salt
2 cups canned tart cherries, well drained
1/2 cup sliced almonds, toasted
Crust: Preheat oven to 350 degrees. In medium bowl, stir together flour, sugar, and salt. In another small bowl, whisk together olive oil, almond milk, and almond extract. Pour wet ingredients into flour mixture; mix gently with fork, just until fully combined.
Transfer dough to a 9-inch pie pan; use palms to pat out dough so it covers bottom of pan, pushing it up the sides to meet the edge. Even out dough around edges, trimming any excess overhang as needed. Crust should be about 1/8-inch thick all around.
Bake crust for 10 minutes, until slightly firm. Let cool for 5 minutes.
*Reduce oven temperature to 325 degrees.
Filling: In blender, combine first 9 ingredients. Process until smooth, about 30 seconds. Let batter rest about 20 minutes.
Place cherries into crust. Pour in filling. Lightly scatter sliced almonds on top. Bake for 40-50 minutes, until filling jiggles slightly in center when gently tapped. Let cool on a rack to room temperature before slicing. It is also good chilled. Store leftovers in the refrigerator.